Celebration of the 10th Anniversary of the Centre for Advanced Studies WUT, 12.04.2018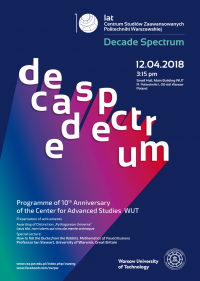 The Centre for Advanced Studies celebrates its 10th anniversary in 2018. On this occasion, a special lecture entitled "How to Tell the Ducks from the Rabbits. Mathematics of Visual Illusions" will be delivered by an excellent guest, Professor Ian Stewart from the University of Warwick, Great Britain, an outstanding mathematician and a world-renowned promoter of science.
The lecture will take place at 15.15 a.m., on 12 April 2018 in the Small Hall of the Main Building of the Warsaw University of Technology. As part of the celebration, Professor Ian Stewart will be awarded a special Distinction of the Center for Advanced Studies "Pythagorean Universe", which motto is: Laus tibi, non tuleris qui vincula mente animoque. The winner will be presented with a distinction statuette in the form of a crystal dodecahedron.
The idea of the Centre was born as early as in 2000, with an initial offer of the advanced lectures addressed to doctoral students. However, it was officially established as the Centre for Advanced Studies on 1 February 2008 by order of the Rector of the Warsaw University of Technology.
The basic objective of the CAS is multidisciplinarity and multidimensionality of the undertaken activities being mindful of improving the level of scientific research and the quality of education at master and doctoral level.
As an extra-faculty unit, the Centre within the structure of the University provides a unique space for organising a wide range of educational activities, based on interdisciplinary lectures, symposia, workshops and many other initiatives which, due to the structural and thematic constraints at the regular faculties, could not take place effectively elsewhere at the University.
The Centre creates a friendly space for the integration of the different faculties of WUT within their joint tasks. It consociates eminent professors, young academic staff and ambitious, most talented doctoral students of the University. The Centre's teaching staff is made up of scientists with a non-standard, interdisciplinary approach to the transfer of knowledge, with the aim of activating the potential of young minds. Thanks to this, creative intellectual exchange between generations and different academic environments is carried out, leading to innovative research solutions and learning about the complexity of scientific issues of an inter-area nature.
We invite you to familiarise yourself with the photos from the ceremony and information materials related to the event:
Biography of Prof. Ian Stewart
Invitation to the 10th Anniversary of the CAS_polish version
Award of Distinction of CAS Ceremony Invitation_english version